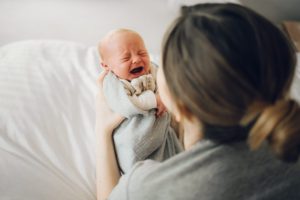 In the spring, about twenty-four years ago, I "pushed the envelope" of motherhood and went to visit a friend who lived in a town almost 2 hours away. My infant son was about 4 months old at the time, and I was still adjusting to all the changes in my life. It was the first "road trip" together for baby and me. I was excited to see my buddy, and also thrilled about the adventurous spirit I mustered for the occasion. Post-pregnancy, my energy was finally back, and I was ready to be out in the world again. "I can do this!" I thought, "what's the big deal?"
The trip was fun, and the day went gloriously as planned. My friend fawned over my baby and we had a lovely lunch. She made a complicated salad, and we caught up for a few hours. It was exactly what I needed: re-connection with an adult I did keg-stands with in college coupled with showing off my new baby – the perfect day. After our visit, I fed my son, and prepared for the trip back. I had the timing all worked out. He would surely nap in the car most of the way home. I was feeling quite brilliant with my planning skills, if you want to know the truth.
My son promptly fell asleep in the car right on schedule, and all was right with the world as I motored along. For about an hour.
During the second half of the trip, with my son still happily snoozing, I knew I had to pee. I figured I could wait. My baby was peaceful, and I wasn't about to stop. But, I vastly overestimated my talent for holding things in. A half hour from home, I was literally squirming and bouncing in my seat looking like a nut job behind the wheel. I had to pee like a racehorse and it was beyond unbearable! This was not a simple "I need to find a bathroom soon" moment. That window had closed. 
I went through options in my head. I could pee right into the seat, and get my car cleaned and detailed later, but are you kidding me that was just gross. I could stop and go by the side of the road, but that would be dangerous and I wasn't about to leave my baby in the car with giant tractor-trailers whizzing by while I scampered off into the woods. The survivor in me took over and I decided a plain old diaper was the only practical and viable solution.
I pulled over and quickly rummaged around in my son's bag for a diaper. I stuffed it down my pants and barely had it situated when the levee simply collapsed. My eyes rolled into the back of my head with sweet, blessed relief. Of course the car stop and the subsequent diaper bag fumble woke up my son, and he began to scream his head off, as babies will do.
Before dealing with the wet diaper which was tricky (I can't believe I'm telling you this), I decided to give my son a quick breastfeed just to calm him back down because the screaming had reached a fever pitch. I couldn't let my screaming baby just sit there and I wanted to establish some peace before I got my hands dirty. I was happy with my decision, until he chose the moment of being released from his car seat to projectile vomit all over me, himself, and of course, the car. "Whoa, man, did that just happen?" his wide eyes seemed to say. I had throw-up dripping off my sunglasses. 
Let me just paint the picture for you (with an added variable): When the police officer approached my car window, I was sitting there with a soaked baby diaper stuffed down my pants, a big boob hanging out of my bra flap, and vomit hanging off every possible inch of the car interior (including me). 
If this moment wasn't my blinking, neon "Welcome to Motherhood" sign, I don't know what was. To this day, I can only wonder what was going through the officer's mind when he stooped to look inside my car.
"Ma'am, you can't park here," he said evenly, and I promptly burst into tears. The stress of simply trying to "make the day go smoothly" had taken it's toll. He took one look at me looking up at him in my big heaping messy pile of emotion, and his eyes grew soft.
"Hold on," he said. He opened my car door and took my squalling son from my arms. "Do you mind if I take this guy for a minute, while you get yourself together?" he asked. Without a word, I dutifully handed him my son, and he turned his back, but did not walk away. To this day, I can still see my little baby peering at me over the back of that uniformed stranger – one with a shiny gun holstered to his belt. "Hey, hand me a wipe," he said, reaching his arm back, but not turning around. I dutifully listened as he heroically lead me out of my debacle. 
I quickly cleaned my car as best I could, and whipped the diaper (boy can those things hold a flood or what?) out of my pants and put it into a plastic bag. I organized my boob back into place.
Everything that had fallen apart was now coming back together because one person decided to be a sweet, comforting, good guy instead of a stern, scary, jerk. The big officer swayed back and forth, and spoke softly to my son. He even wiped his little face. As he patted him gently on the back, my son grew quieter until the crying ceased completely.
He helped me buckle him back in, and as our eyes met, he said, "hey, it gets easier, get home safely." 
And that was that.
The moral?  Being a mother means finding yourself "sticky" situations all the time. We have to improvise, and roll with the punches. We can be perfectly prepared, but it won't matter. Our plans are often foiled in the silliest of ways. Sometimes it will seem like almost everything we do has some sort of challenge attached. And this does not magically end when our kids reach a certain age. This is what we sign up for. 
Motherhood is absolutely not for the feint of heart. It requires quick thinking, courage and lots of humility. Motherhood is for warriors. And warriors must trust other warriors sometimes. I profusely thanked that police officer that day, but I should have baked him a damn cake too. All he did was show human kindness, yet it was powerful. All he did was diffuse and sort my messy predicament, yet it was everything. In that moment, I wasn't alone on the side of the road with a screaming newborn baby. You could say he was just "doing his job," but it was so much more than that to me. 
Kindness, empathy, and connection comes to us in many forms. We must remember to look for it, name it, ask for it, accept it, and thank it. And we must remember to practice it ourselves.