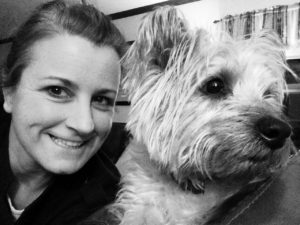 Here's a letter from my dog, Eddie, to Donald Trump.
Donald,
For the love of our country, please STOP the TWITTER nonsense! Please, just stop. Tie your thumbs to your fingers if you must. Practice some restraint (like I do when I want to bark all night long at nothing but the wind). You are not the KING of the planet in much the same way that I am not the KING of the house (or so I've been told). You have so much to LEARN (but don't we all?).
Everything that happens does not warrant an immediate defensive/offensive twitter response. Leading the country is not the job of a shock-jock or a celebrity. Please stop lying. I may not be a Bloodhound but I can smell a lie from a mile away and I don't even have to be downwind. You are now a servant (I know you're not used to that descriptor) for the American people, but you are not the very FIRST or ONLY one. Take a moment to reflect. Do you really want the country to come together? Maybe you should stop patting yourself on the back over your master con/bribe "deal" skills and halt the silly attention-craving "victory" tour. Instead of incessantly congratulating yourself, perhaps you can show some humble reverence for those who have worked tirelessly for the betterment of our Nation and our people. You can do this by simply observing public servants in action, and listening for a change.
Use this precious "pre-oath" time wisely. Stop chewing your buttery prime rib (oh my God it looks absolutely delicious) and READ something. You are the President-Elect. Act like an adult and stop this Twitter madness. Donald, we the people (and all the dogs who think they are people), are not stupid. Tweets will not protect us. Tweets will not create or keep jobs in America. Tweets will not solve global problems or improve foreign relations. Tweets will not save our planet (or take us to the park for that matter). Kindly lift your tiny thumbs up and off that tiny keyboard for a moment and do some old fashioned thinking instead.
Perhaps it's time to employ a "measure twice, cut once" philosophy to your daily routine, especially when it comes to your words. Listen, here's the only REAL advice I can give you. It comes from experience, and it's pretty solid (most of the time): NEVER poop in the house (or ON it). It makes EVERYONE mad, (even those who actually like you). People will resent cleaning up the dirty messes that you carelessly leave behind, and they WILL NOT trust you anymore. Trust is earned. I found this out the hard way, just sayin'.
Oh, and when possible, please provide the list of the millionaire-billionaires that you are adding to your cabinet…the ones who will be waiving their government salaries. Thanks.
From, 
Eddie 

PS – One more small tip: a playful sense of humor might help a little too. Alec Baldwin is an actor, Donald. He's an ACTOR. Cool your jets, and laugh once in a while, okay? No one likes a sour puss.