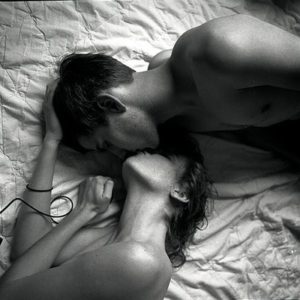 "Today's the day," she says, intensely looking down at him from her perch. She is back from her morning power walk, and still a little out of breath. Her heart eagerly pounds away inside her chest. Straddling him, as she always does, she appears, in the moment, to be a wise, old owl. Her big eyes shine like melted pools of chocolate. He can't help but smile up at her. He studies her face as a curtain of her hair, the shorter part that escaped her pony tail holder, swishes from behind her ears. He notes that it has already changed, her face. It's different. It's filled with dancing eyebrows and upturned lips of delight. It has become dewy and flushed and fully living. Her face is different because it's alive. 
They have an appointment later for their first ultra-sound to hear the baby's heartbeat, and her excitement can not be contained. She wiggles around on top of him which is both a good and bad thing. Good because it's cute, bad because his dick doesn't care about manners or motherhood…at all. 
"So, do we find out?" she asks, again, like a little girl, for the tenth time since the pregnancy was confirmed, "or do we just let it be?" Part of her wants to know every last detail, including of course, the sex of their baby, but the other part of her, the part that always wins, believes in the absolute magic and miracle of surprises. Together they've wrestled with this question, and they've answered it, definitively, on three separate occasions. They've agreed that "knowing" is something that doesn't matter at all and they will not open their gift before it's time.
"Haven't we been over this, love?" he asks, tilting his head pleasantly.
The doctor mentioned that they wouldn't be able to tell yet anyway, not at this point. She springs up from him as quickly as she descended. "I have to go take a shower," she says. "I'm a bit rank." He scrunches his nose.
"I'd say ripe, not rank" he replies, and she swats him on the shoulder.
Never rank, he thinks. Too goddamn beautiful for rank.
*********************
From the bed, and through the slightly cracked bathroom door, he watches her apply Burt's Bee's Milk & Honey lotion to her legs and arms. "It's not greasy, and I love it," she says. "And it smells good."
She has one towel wrapped around her torso, and one wrapped around her hair with her foot hoisted on the toilet lid as she rubs a dollop into her thigh in a circular motion. She is fresh from the shower, one that was uninhibitedly replete with sudden bursts of song. This morning she was James Taylor. "I've seen fire and I've seen rain…" 
Most women do not realize what "fresh from the shower" does to a man. His fiance is not just any woman, of course, but she is still somewhat oblivious to her own seductive charms around him. He feels his neck get hot. His ears start to tingle, and he stretches, putting down his papers. He continues to watch her through the crack, and he feels like a dirty peeping bird. And just like the creepy perv he secretly fears he is, his thoughts go straight into the gutter. He sits back and continues to watch, thinking drop the towel, just drop the towel, as virile man blood rushes to his groin.
She unwraps the towel from her wet hair and runs her fingers through it. The one around her body slips when she lifts her arms and she catches it, but not before her bare breasts tumble forth and bounce around, revealing the faded tan lines from her bathing suit. Jesus Christ, he thinks. It's all entirely too sexy for him, and he groans, closing his eyes briefly. He pulls himself up from the pillow lodged behind his back and makes a beeline for the bathroom. Without a word he pulls her into his chest from behind.
She giggles and sinks into him as he kisses her shoulders, tickling her with his lips. "You're so warm," she says with a sigh.
"It's one of my best qualities," he replies, nuzzling her right shoulder. "So, here's the thing…" he says matter of fact, his voice muffled from his urgent kissing. "You might be late for work."
He loves her body, her curves and her waist, her arms. She makes fun of her girl parts, like most women do, but he just shakes his head. He is not interested in discussing all the "wrong" things that couldn't be more right. She seemingly laments her own existence sometimes – too big, too round, too much – but he will not have it. No, no, no, he shakes his head when she scrutinizes her perceived flaws. To him, she is Aphrodite, plain and simple, and he suddenly can't breathe as his love for her, her face, and her goddamn soft and sweet-smelling skin, bubbles to the surface and overwhelms him.
He knows she is busy creating life, stacking building blocks one by one, forming little hands, little feet. Tiny fingers and toes. She is making a beating heart, and brain matter, and tiny earlobes, and precious baby eyeballs and arms. Right now she is doing all this like it's no big deal. Her bowl is mixing indeed, churning, expanding, the contents rising within, and this thought alone stuns him whenever he stops to think about it, which is always these days.
They found out that Maybe was Definitely over a month ago, and they are now closing in on 11 weeks. They sat together and waited for a plus sign to appear in a little window. They spoke with a doctor while she trembled and he beamed. He had grabbed her hand to steady her, and she let his fingers lock in with hers. They could have been that happy laughing couple on the front of the fertility brochure in the waiting room. With the confirmation, they smiled like kids on Christmas morning, kids who knew that one more big present was still coming, the biggest present of all, the one that was hidden while they opened all the other smaller gifts. They both wanted this baby, this Maybe turned Definitely, for a very long time, but they had to find each other first. 
"I hope she is pretty like you," she had said, riding home in the car. Inexplicably, they both think that their baby is a girl.  "I hope she is everything like you," he had replied quietly, one hand on the wheel, the other on her knee, as she peered up at the sky rolling by from  the passenger side window. Later, she would remember this as the moment her lens moved a notch, the day her focus became clear.
Now, in the bathroom, he moves his hands down her shoulders and tugs the towel decisively off, letting it drop to the tiles below. He grows stiff and urgent as he presses himself into the crevice of her backside. She feels his desire against her and it turns her on.
"This okay?" he asks as he runs his hands down the sides of her body.
"I'd say so," she replies in a soft whisper, surrendering to his magic touch. His left hand moves between her legs and she braces herself on the sink as her body begins to relax. He gently turns her around to face him, drops to his knees, and buries his face between her legs, grabbing her hips, and then there is no more talking. He loves her with his mouth as she arches back, gasping for air, grabbing at his head, his hair. Then, with his tongue, he slowly moves north. He licks the little mandala tattooed on her right hip bone, and rolls straight up and over her slightly swollen belly to her breasts where he finds her nipples taught with desire. He takes her breasts into his hands gently. Her legs are now weak, and she crumples into his embrace. Deliberately he moves further up, kissing her neck, picking her up off the ground, sitting her right down on the bathroom counter.
Their intimacy does not go unnoticed by the dog who sits in the doorway panting, with his tongue out staring at them. "Go away boy, geez…" he grumbles, kicking the door closed, and they both laugh.
His leg cramps up and she sees him wince. "Come on, let's take it to the bed," she says. She hops off the counter and pulls him, he follows, limping slightly, bending her over on top of the quilt. He enters her smoothly from behind and continues to gently thrust, grabbing her hips until she lets out a soft moan of pleasure. He sighs heavily, scrunching his face, trying to think about math, and throwing perfect football spirals, and the graceful complexities of Roger Angell's autobiography, Let Me Finish.
"I'm not going to make it babe," he says trying to hold off.
"Go, just go" she responds, and with that he climaxes, and shudders, and covers her, staying inside.
"Jesus, I love you," he whispers, moving her hair to kiss the back of her neck.
"I love me too," she sighs and they both chuckle. He does not retreat, and they lay like that for a minute or two, as their heart rates slowly wane back to a resting pace.
"So nice," he says, clearly pleased with the morning activity.
"Very," she replies, and wiggles a bit to let him know that his big body is now completely suffocating her and it's time for him to move. The sexy time has passed.
Working quickly, they get ready for their day ahead. They bustle about, tending to their own business, but in the kitchen, they high-five near the coffee maker as they gather stuff for their work bags.
"Solid effort out there today, champ" she says with a playful smile.
"Thanks, coach," he replies, reaching for her bottom. She bats his hand and scoots away. She is off to work, and he has a few more riveting undergraduate essays to get through before his 11 o'clock class, Greek Mythology in English Literature. 
**********************
Whenever she has sex, she can't help but remember.
The terrible memory remains lodged inside her brain despite its excavation years ago, despite uncovering it and expelling its crippling power over her life. She can't help it. It's part of who she is, it is her history, a notch in her timeline, a permanent scar. It's a forced bend in her branch that made her to grow a different way. On her way to her office, she thinks about it, the blurred yet vivid memory. It comes to her in fragments, as it always does.
"…Touch my cock," the neighbor boy whispered gruffly, grabbing her hand. She tried to yank it away. "Right there, look at what you're doing to it." She looked, but then closed her eyes, closed them tight so all she had to do was feel it, that growing rope of a snake coming to life inside her little hand.
"You're gonna be so pretty I can tell," he said, breathing fire like a dragon, pushing up against her small body, moving her hand with his. "Let's see what's under here," he said, lifting her little sundress. She could hear her friends laughing in the distance, in the front of her house, oblivious. They were running under the warm summer sun, hiding, scattering, still living within the innocence of their childhoods while hers diminished with every sordid pump of her hand.
He yanked her underwear down and shoved two fingers between her legs, up inside her. "This is what you'll be doing all the time when you're old enough," he moaned, "Oh my god you're so small." And then, "be quiet, be quiet." He was hurting her. It hurt so bad.
She was crying, gritting her teeth. She turned her face away, but remained pinned. She stood there with her eyes tightly shut, adrenaline born of fear mixed with a thousand questions surged through her body, and it made her sick. She tasted bile in her throat and on her tongue and in her nose, but she swallowed it down. It cascaded in burning, chugging lumps back to her stomach.
Tears. His mouth came down on hers and her arms betrayed her. She couldn't even lift the one that was free. Paralyzed, shoved up against a big rock. His hand jerked hers and his fingers pushed further in. She couldn't rail against him, the ugly, doughy son of former neighbors, home for the summer from college. She couldn't do anything except let it all happen. She was seven. 
She held her breath. She tried to push some words out but they remained stuck, like thick paste caught inside her lungs.
And then suddenly, her hand was wet. He issued a soft cry as his ejaculate spewed forth. He released her from his clutches and she tripped away, wiping her hand on her dress, pulling her underwear up. "You better not fucking tell anyone!" he hissed, and his ugly words chased her as she ran.
She raced back to the other children playing as he called out, "She was in the woods, I found her!" The adults at the block party had given him the task of watching the smaller kids, and playing with them while they grilled hot dogs and got tipsy on beer and tall cocktails. The neighbor boy had suggested a game of "hide and go seek" and the little kids had squealed with approval and delight.
She went straight into the house, and into her room. She was sore inside and outside, and her mouth hurt from the kissing. She pulled her underwear off, the crotch speckled with blood, and stuffed them deep between the box spring and the mattress of her twin bed. She would find them 5 years later, when she was 12. Her parents had purchased a new bed for her and they were rearranging her room.
"How did these get here?" she had laughed, tossing them quickly into the garbage, pretending to not remember, pretending they were just a silly discovery made amid the chaos of a cluttered room. Her mother had simply frowned, not really looking up or listening as she ran a dust cloth across the purple painted bookshelf, and unplugged the table lamp near the bed.
And that was that. No questions. No revelations. No therapy. Just a secret well kept.
She would pretend to not remember that day for years and years, through several boyfriends and lots of tears, by burying it even deeper then she had the first time. But now? Now she knows it's okay to remember it, it's okay to think about it, and not hide from it, or keep it hidden, and have it just be what it was, something horrible she endured that no longer defines her, that no longer controls her mood, her behaviors, her inner peace, or her quest for happiness. Something confusing that blasted a hole in her once upon a time childhood that wasn't her fault. The thing she finally swam away from, to the surface, where she was greeted with air and light and love.
This memory, and it's subsequent affects no longer ruled her life. When she was 30, she had a small mandala tattooed just below her right hip bone. It's her symbol of survival, her symbol of renewal, her beloved symbol of continued courage. Years ago, she did the work to conquer her sadness, to conquer her self-destructive ways. She did the work required to put her shattered self back together again.
She carries with her many scars, both seen and unseen. The one she had purposely burned and carved into the canvas of her tender skin reminds her to simply love and be loved without shame.
**********************
In the doctor's office, they wait quietly. There is music overhead. Cat Stevens croons in the lovely way that only Cat Stevens can.
"I was once like you are now, and I know that it's not easy
To be calm when you've found something going on
But take your time, think a lot
Why, think of everything you've got
For you will still be here tomorrow
But your dreams may not…"
She is suddenly laying on the table as the technician squeezes a bit of jelly lubricant onto her lower belly. "Sorry this might be a little cold," he says, tapping on the keyboard in front of him. The room is dark and quiet, except for the large monitor and keyboard. Her true love sits on the edge of a rolling stool, his chin cupped in one hand with an elbow on his knee, and the technician begins to drag the wand across her belly, first in circles and then in straight lines. "We don't want to know the sex," she says with a warning in her tone. "We don't need to know," she adds with a hint of superiority.
"Okay, we can't do that today anyway," he says, and his words quickly shut her up.
The technician is quiet as he continues to move the instrument back and forth. "Huh," he mutters, which is something a medical professional in a white coat should never, ever mutter. "I think this little one is hiding," he says lightly, and continues to move the wand. He presses on her abdomen, and she feels her fists clench.
"Huh," he says again. He tries for a bit longer, but can't quite locate anything. All at once she knows that there is nothing living or growing inside her, her womb is dark and empty and barren and they have been tricked into believing in something that simply isn't there, it would seem. Her thoughts race ahead to the ride home, the one where she is sobbing and he is looking away and they both can't even speak because words are stuck inside them, and even if they managed to push a few words out they would fail and fail and fail.
"This happens sometimes," the technician says casually, and it doesn't make her feel better, no it does not. Her beloved has reached for her hand, and he is rubbing her arm, staring at the screen, not looking at her. Her eyes remain wide and she is biting her bottom lip.
He works the wand across her belly again, and the moment it hovers over her small tattoo a thump-bump, thump-bump, thump-bump comes pounding out like a kettle drum, filling up the room with a cadence so divinely sweet it feels like a last second victory. It feels like someone should be giving a speech and accepting a trophy while ticker tape falls from heaven.
"Ah, there we are!" the technician says excitedly as if he alone just won the game. "Your little fish decided to stop playing hide and seek and make an appearance after all," he says softly. He has no idea how his silly words hit her square in the face, almost knocking her out cold. But her man knows, and he squeezes her hand in recognition and it helps her keep it together for a moment.
And then for a few minutes, the ultra-sound technician silently works his magic wand and makes his notes, and takes a few pictures. And all the while that tiny, glorious heart just keeps on beating.
She lays there thinking about her baby coming out of hiding and can't help but imagine that this little one is already brave. She's already making herself known, and seen, and heard, and she will be a force to be reckoned with because she is already making a scene, a splash. She is a truth-teller. And every time the technician moves his wand across her belly, she closes her eyes, and pictures her little one moving away from it playfully, like a mermaid sprite, followed by pixie dust.
As they check out of the medical office, Van Morrison comes on and sings whimsically in the way that only Van the Man can.
"I can feel her heartbeat for a thousand miles…" and the song is her undoing.
"Are you shitting me!?" she shakes her head with a grin. Her eyes fill with tears. She wipes them with the back of her hand, and she laughs out loud at the absurdity of it, that song coming on right then, and she finally exhales all the breath she is holding. She lets it go with blessed relief.
Back at home, while he is busy doing some non-essential things downstairs, and getting their good boy out for a quick lap around the neighborhood, she decides to lay down for a well-deserved nap before dinner. She is feeling drained from the emotional roller-coaster of growing a living human being inside her body. 
She pulls her daddy's shirt from the back of the closet and stuffs her pillow inside it. She keeps it buttoned up and she lays against it the way she always laid against his chest when she was a child. It is a comfort that only daddy's girls who lose their daddy suddenly and tragically can understand. Sometimes she just longs to be with him again, to pretend a bit, and honor his once upon a time existence, his big protective arms, his scent, his words, his kindness, and his unwavering faith in her.
Sometimes she can even hear his long ago heart beat through that well-worn, ragged, work shirt, as it pumps his lifeline blood to his brain and his limbs without a hint of struggle or disease.
And it's the precious, steady sound of it, the sound of life and living, that helps her fall asleep.