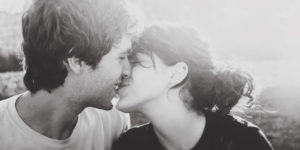 She has always been a toucher. She can't walk by him or near him without a quick caress. This is how it has been from the beginning. She runs her hand across his shoulders, or over his head, through his hair. She cups his sexy backside the same way she cups his face. She reaches for him. It's what she does. Whenever he is standing nearby, she rubs up against him like a cat. Sometimes she can't keep her hands to herself. She is pretty good about it when they are in public, but honestly, if she could weave herself into his flesh she would.
He doesn't want to trust her when she says, "close your eyes and open your mouth," but so far it has worked out well. He is never disappointed. This time, it's a dollop of warm chocolate fudge frosting with shaved bits of extra dark chocolate for texture. She dips her finger into her grandmother's yellow ware bowl and puts it directly into his mouth. It melts, and it is death. His head rolls back and he wants to devour her whole hand. She pulls her finger from his lips and it makes a popping sound. "Oh my!" she says with a grin, leaning down for a yummy, chocolaty kiss.
They both enjoy sifting through the racks and shelves of dusty, community thrift stores. He tends to find excellent things like waxed canvas Barbour jackets, or Filson leather bags for next to nothing. His thrift store prowess has become something of legend among their friends. "This?" he says. "8 bucks."
She looks for chunky, "signed by the artist" pottery pieces, running her fingers over the smooth handles and rough bottoms. It is amazing what they collect, the expensive things people toss from the closets and cupboards of their lives. She also likes embroidered linen peasant tops and when she holds them up to her torso she can't help but picture herself in a field, with her arms unfurled, twirling like Julie Andrews atop that beautiful mountain in Austria. She sways back and forth to see how the fabric will move against her body. "Who would throw this away?" she asks, touching the intricate, colorful, stitching. Wherever they go, they stop at thrift stores, because hunting and gathering long forgotten bits and pieces, the wayward misfits with untold stories attached, is decidedly the funnest kind of shopping. It sure beats picking up groceries.
She is fierce, but she cowers to one thing: a big storm. She can't bear thunder and lightening, it scares her witless, even if it's "far off" as they always say. She's frightened by the flashing cracks in the sky and the loud power of something she can't control, a natural thing she must simply bear down and passively endure as there is no other option. "The angels are bowling," her daddy always said, and her imagination would wander to cartoons of divine beings in white robes, celebrating strikes and spares in front of a blinking scoreboard. Whenever the thunder rolled and the lightening flared, she would sit with him, and he would hold her tight. He would let her bury her little face into his arm crevice next to his sewn on name tag, waiting for it to be over. She would trace the raised, script letters of his name with her small finger, as the faintest hint of Aramis filled her nose.
She's wearing her stupid clogs, clomping around upstairs, as he sits at the kitchen table, marking up papers, making a myriad of brilliant suggestions in the margins. It sounds like people are working on the roof. Clip, clop, clip, clop. She is cleaning closets today. He could live without the clogs.
"I could live without the clogs!" he yells, and he hears her kick them off. "Sorry babe!" comes from upstairs. The dog followed her up there, and he can hear her talking to him, singing bits of songs as she works. "Oh baby YOU! You got what I NEED" she sings. Apparently it's Biz Markie time, which now makes it extra difficult for him to concentrate on the meaningful feedback he must extol to all the bright young minds in his charge. "And then you say he's just a friend," he murmurs, writing "more details here please!" in red pen next to a paragraph that clearly needs more details…please.     
"What do you think, mister?" she says, holding up a long-sleeved, out of fashion, boat-collar, cotton knit. Their good boy watches her adoringly from his spot on the floor, tilting his head at the question, seemingly trying to decide if stripes are still in fashion. His eyebrows twitch, so that's a no. Shoved into bags go piles of the unworn clothes she "couldn't leave behind" at thrift stores. They will go straight back to the dusty racks. Some clothes just don't make it past try-outs. One item that always makes the cut, though, is her daddy's faded, navy blue work shirt. It still hangs where it always does, in the very back of every closet she's ever filled.
********************
In the afternoon he wants to hike, so she shimmies into her shorts and pulls a soft gray tank top over her head. She flexes her muscles like a body builder, and they are smooth and quite impressive. "Welcome to the gun show," she laughs, kissing one of her biceps with a wink in his direction. "I'm a pacifist, but I know quality guns when I see them," he nods, seriously.
They take their usual route, hiking all the way up to the big boulder that juts from the pinnacle. Below they see their neat little rented house, plus some other farms and towns far beyond where they currently stand. It never ceases to amaze them that this view, any view actually, can simply take their breath away, and fill them with the quiet serenity and wonder required for genuine inner peace. It can make a body feel small, and insignificant, but calm and inspired. It's here where they rest and have lunch.  A peaceful, seemingly unremarkable day of togetherness. It's their special place. It's the spot where they first met almost 2 years ago, when he was with his dog, and she was by herself.
He had come upon her, lounging and relaxed on full display across a flat part of the rocky surface, extending her long body as she often does whenever she's presented with natural platforms. She was beautiful, but it was because she seemed ethereal, as if at that exact moment in time he was looking at her true and only self. He gazed upon her soul, privy to it. He was staring at her when his dog broke free, trotted over, and licked her face. She jumped up with a chortle, and that was it for him. He knew. It took her a bit longer to fall for his charms, because she had that greasy boyfriend who drove a muddy jeep, but she came around, eventually.
Today they simply rest there, reclined, soaking up the sun together, precious tranquility ticking quietly between them. For him, this moment has been planned for a while, and he has a mini crisis while he gathers his thoughts and musters his courage.
Her answer is everything.
He clutches her hand and brings it to his lips. he looks at her tenderly, leaning in, pulling her sideways to face him. He kisses her fingers and she is smiling and he is smiling and his heart is racing and she knows something is up because of how he is looking at her and she is trying to remember it all, all of it, his face, his eyes, his words and his lack of words. She takes bitty snapshots in her head as the moment progresses because something has shifted and she knows this is big and heavy, she feels it. He leans in, he briefly rests his cheek upon her cheek and finds her mouth. He kisses her bottom lip, then the top, then the tiny scar beneath her eye, and his gaze remains open, and serious, and earnest and honest. Her eyes are open too, wide, because she is taking all those mini pictures, click, click, click. This will soon be a past thing, but it's a moment she wants seared upon her brain, around which all other moments might grow.
"So, I have a question" he says, and he smiles his serene, knowing, intelligent smile and his eyes, well, they remain locked on hers. Her gorgeous brown eyes can't take it, they fill up, but she does not cry, oh no this is not the time for tears. She brings her fist to her mouth, pressing it, but he nudges it away with his thumb. "Babe, I want to watch your lips," he says.
"You're my heart," he blurts with straightforward conviction. "You don't have my heart, you are my heart, you live inside me" and the words tumble off his tongue too quickly. "I'm asking to be your husband, to be your person," he smiles. "Can I just be your husband?" he sighs, getting it all out, all of his words, and this is no small request, and there is a tiny smidgen of a desperate plea, like a small boy praying into his pillow on Christmas Eve, asking for the one thing he knows he can't bear to live without. There is innocence and genuine hope in his voice, and she can't believe his humble greatness, his magic, how he is showing her every last card he holds, his whole gambling hand, right there on the surface in front of her. The moment is both beautiful and risky and it's as right as rain.
"Yes, yes," she says quietly, she nods and he watches her mouth, her teeth, "but…" she trails, and his chest plummets a bit but then she adds, "you already are." And, as he has known for some time now, he has never felt this way, so imperfectly and perfectly in love with another. He is suddenly mellow with profound, poignant contentment. She loves him back, and she wants what he wants. His heart is full, grateful for her friendship, her body, her head, and yes, as corny as it sounds, her soul. He exhales a heady breath into the the day, and it sounds like wind coming off the trees. His chest loosens, finally, against hers. He's as relaxed as the first day they met.
This is the love people write about, what people die for, what people fight for, and why people pine, and regret, and grow depressed, and wish, and do stupid, passionate things. It is this love, this one, this elusive, genuine thing that many do not experience because it is a divine miracle when two separate beating hearts sync up, and meld into one beat, into a funnel cloud more powerful than all other feelings, so powerful they wipe everything else away. Maybe the timing is slightly off, or they never even meet, or they give up long before seeing where their feelings might take them. Maybe they just miss it, this. This kind of love. It is this love, this very one, that is the fuel for a good life. And it is this moment that sets the bar for all other happy moments to come.
He gives her the smooth, pink kidney bean shaped rock he found, the one that he slipped into his pocket that very first day he met her on top of "their" mountain, the mountain that now, because of what just happened here, belongs only to them. He lays it on her chest, placing it between her breasts, like a baby in a womb, or an egg in a nest. They kiss again and there it is between them, that small, smooth, shiny rock. It's something they both can feel.
She pulls it out and places it on top of her ring finger. "Oh my God, the ring!" he bolts upright. She laughs. "I can't believe I forgot the ring," his sighs, "Geez," his brows furrow, and he is upset with himself. "Easy fella," she says and she pushes him onto his back, she straddles him and kisses him full on the mouth. "But I do have a ring," he says, and he fumbles for the sparkling piece nestled in the deepest corner of his pocket.
"I'm supposed to be on my knee," he says, shaking his head, still annoyed with himself. "Honey, your knee has been through enough," she smiles, taking the pretty ring from him, slipping it onto her finger. "Wowzah!" she exclaims, spreading her hand wide, looking at it. "Am I a princess?" she asks and he swears he can see hearts shooting out of her eyes.
"Oh no, my love," he says. "you're the fucking queen."
********************
The dog lets out a squeaky groan and shuffles around, making noises. He has had enough of this special moment, and he's ready to trample down the mountain because he knows from past experience that there is a delicious treat (maybe peanut butter flavor) waiting for him in the car at the bottom. And he also knows that he has been such a good boy. 
They stop at the adorable farm stand on the way home, the one with the meandering old lady who helps everyone pick out their vegetables because she wants to make sure they get the absolute best. She says, "oh not that one, this one," with her dimpled smile, as she tenderly places the perfect specimens inside paper bags with her translucent paper hands. They get apples, a jar of honey (she always wants honey), cucumbers, zucchini and some ripe red peppers. They will make a little stir fry to have with wine later as they toast their decision. They will make salad too, and biscuits (because who doesn't love biscuits?) and a delicious, buttery dessert crumble. Art from plow to plate, to celebrate.
The sky flickers and she is annoyed. "It's the heat," he says. "It's nothing." Oh, but it's something, she thinks as the soft "far away" rumbling begins. He rubs her shoulders from behind while she cooks. The sizzle of the peppers and onions make a gorgeous hissing sound. He pulls down the shade and turns the music up as the aroma of garlic and olive oil and all her curious spices fill his nose. Mix and stir, sear and toss. Flash and rumble. Sing along, sip, a little taste, then serve. The kitchen sounds are indeed the sounds of precious life itself. His life with her.
Later, she is glowing like the sun, and rushing like a river as he carries her, as his rhythm falls into line with hers, as they sail up and drop down into a shared and blessed abyss. Lightening breaks across the night sky, thunder rages on, and he covers her, he envelopes her body, protecting her, entering her, weaving himself inside her mysterious, maze of a garden, intuitively feeling and finding his way, as he always does, to every ending and sweet beginning she presents. Amid the strikes and spares, he voraciously consumes all that she offers him.
He does not wait for her to touch him first.