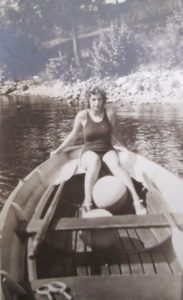 Tonight, as we went around the table giving toasts and telling each other what we were thankful for, my daughter tearfully talked about her grandmothers. Why? Because grandmothers are special. I am so happy she shares a close bond with two wonderful, strong women.
My beautiful grandmother, known by some of us as "Betty The Best" works her way into my head almost every day. Her voice rings clear many times over throughout the course of a year. While today is a day to reach out and bring our living loved ones close, I'd like to take a small moment to reflect on the woman who made a lasting impression on me. She was graceful, kind, soft, and giving. She was squishy, funny, loving, and smart. She was everything you could ever want a grandmother to be. I'm grateful (and quite lucky) to be able to say that I knew her well.
This Thanksgiving, I would like to thank her.
Thank you, Grandma, for showing me that laughter is the very best way to keep my human struggles from beating me. That creativity is my path toward happiness. For telling me that there's absolutely nothing wrong with having hips. For giving me all those sweet, warm hugs. I can still smell your perfume because of those hugs.
Thank you, Grandma, for quietly listening and holding me close, right when my heart was breaking. For letting me brush your hair. For brushing mine back. For being the beacon, the light inside the darkness, that helped me finally find my way. For giving me a job to to do when I was bored, or restless, or lonely. For showing me that one scoop of chocolate ice cream is all I really need. For establishing some rules.
Thank you, Grandma, for encouraging me to enjoy my own good company. For telling me, earnestly, that I should never go without a bra. ("You'll thank me later"). For reading my poetry, and telling me to please, please go write some more. For making the best toll house cookies, and sauerbraten with red cabbage I've ever had. Oh, Grandma, I can still taste it.
Grandma, I have your mixing bowl, and Keri has your cast iron pot. Thank you.
Thank you for your steadfast conviction. For knowing when to lean in, and when to back out. Thank you Grandma, for all the prayers. For pretending you didn't hear me, after mid-night, tip-toeing up the stairs. For not sleeping until I was asleep. For putting the light on. For loving me despite my behavior, despite how I made you worry. For slipping me those $10 bills. For telling me to always have a quarter handy so that I could call home and to keep a dollar in my shoe.
Thank you Grandma, for giving me your legs. For slicing a banana when I felt sick. For telling me to always, always wear the dress that makes me feel like a million bucks. For calling me Kimmy, and treating me special. For all the defending and molding, the praising and scolding. For telling me to go outside. For letting me borrow your car.
Thank you Grandma, for loving our babies. For making sure we knew, by watching you, that babies are gifts that remind us to be selfless. For blessing them with your cuddles and smiles during the very short time you were in their lives. For holding my son as if he was yours, simply because he was. He was yours because he came from you. Our children are who they are because of your love, your love that continues to trickle right through us. And the ones who never met you? They won't soon forget you. We simply will not let them.
Grandma, you would be so proud. Thank you.
With big, brown eyes, I watched you and I listened. I remember you. I remember all of it.
Happy Thanksgiving 2018!