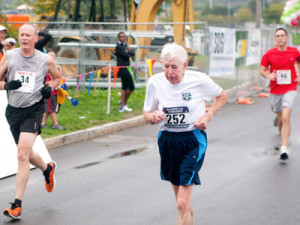 Oh does she ever run fast!
She runs right past,
in her neon tank,
her legs long and lank,
and her perfect form…
Oh, but he is swift!
He springs, he lifts,
with blades for feet,
he sees no defeat,
and the miles he will complete,
are four times as many as my own…
Oh but she flies free!
with bulging biceps strong,
she's so much stronger than me,
and her wheels spin around,
amidst the cheers, and the sound
of sweet hard won victory… 
Oh and there he goes!
But he is way too old,
His racing, so bold!
How dare he?
How dare he zip right past me?
And her…
How does she do it?
She can't be a runner,
she's way too big!
And yet there she goes,
because she knows,
she knows that she's a runner,
I don't have to know it,
but she does…
Oh and that one, so quick!
What is she, nine?
Races right past me,
with hair whipping behind,
not even bothering with a ponytail,
just running because she can,
with the finish line,
and ice cream in mind…
And I canter along,
at my pace, neither weak
nor strong,
neither fast, nor slow,
and I want them to know,
that I'm inspired…
Sometimes, this is why I run,
this is why,
if they can run,
then so can I
And this heaping slice of humble pie,
is exactly what I need.
A slice of humble pie is sweet soul nourishment, indeed.