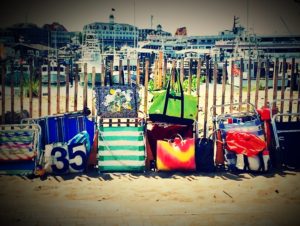 Every year, it's the same.
I meet my girlfriends at the ferry with my over-packed weekend bag, a rickety beach chair, a bottle of wine, and a huge sigh of blessed relief. As we push off the dock, our vacation away from everything else begins. We descend upon an island, our island, for what is always a magical two-day reset, a mere blip on our calendars, inside a year filled with life changes, struggles, triumphs, and the drudgery of our daily grind. A reprieve from being everything to everyone. Two short, little weekend days that fly right on by in the blink of an eye.
My girls.  My crazy Block Island lady friends. My sisters.
Some of us met in high school. Some of us have stories that date back to the prehistoric times of being in the same kindergarten class, or whipping around roller rinks in our tight, designer jeans. Some of us bonded in college for 4 glorious years, bleeding blue as proud UConn Huskies. A few of us met on this very trip, over 20 years ago. All of us, however, are now woven into the fabric of friendship that could exist on water and crumbs (though, truth be told, we prefer rum floater cocktails on the beach). We've extended beyond normal girlfriend closeness. Because of this one getaway in the summer, we are blood. 
Our memories, cherished. Our stories, legendary. At least they are to us. And what is life if not for the happy experiences that seal long-lasting friendship? 
That time one of us fell flat on her face on the pavement in front of the Red Bird Liquor Store, and like first-responders, we ran to "circle & support." That time a certain someone's loins were burning on the dance floor. Just last year, when two of us went out for a 9 AM power walk dressed in yoga pants and windbreakers, and returned at 1 AM the next morning. Apparently the evening involved an all day pub crawl, dinner at a fancy restaurant, a lost jacket, and some sort of adventurous car ride with a stranger.
Because funny shit always happens on The Block.
There was the year we all bought wrist-let purses and discovered the joys of being hands-free. That time we made some poor random woman dress up in the lobster costume we found in a closet. The year our gifted chef of a friend brought "bacon crack" from home for pre-game noshing, and we laid around the apartment strung out on her crispy brown sugar slices of heaven like relapsing drug-addicts in a halfway house.
We've danced with sweaty, drunk guys at Yellow Kittens until the wee hours. We've shut down Captain Nick's. We've seen Darik and the Funbags, and The Blushing Brides play 192 times. We've stayed well beyond our welcome at Mahogany Shoals. We've enjoyed tapas and sipped expensive glasses of wine on the front lawn of The Atlantic, sitting in Adirondack chairs under blankets, while watching the sun set.
Because we can be classy like that sometimes. 
We've stayed in various apartments, rooms, inns, and even the now defunct but fabled Figurehead Suite. We've slept on boats. We've met interesting people and morons alike, and we've done shots with all of them at The National. We've danced with grandpa's and we've gyrated with their grandsons. As bystanders, we've been offensive, defensive, and neutral. We've been inappropriate. We've drunkenly downed delicious grilled cheese sandwiches in the middle of the street outside Rebecca's at half past midnight. We've witnessed and participated in bar brawls. We've given statements to the cops.
Just last year, we held an impromptu yoga class on the front lawn of The Barrington.
Because that's how we roll.
We're silly, giddy, dumb, and fun. We throw caution to the wind because this weekend, this one priority weekend, is our time. Our time to be foolish. Our time to not be mothers, or wives. To not be executives, or teachers, or writers, or consultants. To not set good examples for our children, or anyone else's children for that matter. To not be anything to anybody.
A few years ago, it rained the entire weekend and almost washed us away. It felt like a monsoon. High winds, torrential downpours. Broken umbrellas. We bellied up to the bar and made due with hours of laughter through our tears of disappointment over the lack of beach weather.
Because weather never matters when it comes to strengthening our connection. 
What matters is no judgement truth telling and vulnerable oversharing. What matters is recognition, and validation from the precious people who know us best. When we are together, talking about everything under the sun, and nothing in particular, all is right with the world.
Snapshot memories sustain us. The hummus pizza at Poor Peoples Pub that rendered us speechless and cured our Sunday hangovers. The glorious, strenuous bicycle trip around the island. The 8 mile, 8 hour hike along the beach that put holes in our sandals, the one we thought would never end, but miraculously, like an oasis in a desert, lead us back to Ballards. The night a certain someone sat her drunk bare ass on my leg and I freaked. Climbing those killer stairs at Mohegan Bluffs. Eating those Killer Donuts on Payne's Dock.
When our only wish for the weekend was to enjoy one whole meal that required a fork.
We've been through divorces, marriages, break ups, new boyfriends, ex-boyfriends, heartache, baby birthing, kid problems, and yes, plenty of personal achievement. We've been through job switches, relocation, health scares, and family turmoil. We've coached and talked and toasted and hugged and cried, and simply loved our way through the curve balls that life throws. Somehow, this trip has become the divine therapy needed to keep us grounded.
Because it keeps us honest.
Streaming tears and sore bellies from laughing. Stumbling home. Falling into bushes. Sleeping until noon. Finding raw beauty in our everlasting sisterhood. Regaining some of the grace and humor we surely need to survive this dirty world. Ours could be the story of any group of girlfriends, anywhere, at any point in time.
Because when we make the time to come together, even if it's difficult, or just once a year, we get some of the lost parts of ourselves back.

Once upon a time, most of us were together, exactly like this, every day. Once upon a time, we were free-spirits, unencumbered by the challenges of raising kids, getting older, or living the complicated lives that consume us now. Re-connection nourishes the neglected part of our inner self, our soul, which is the only part of being human that actually matters for sustained happiness.
Every year, it's the same. And yet every year, it changes us for the better. 
Last year, when we boarded the ferry, we noticed a group of younger women a few seats over. They were all wearing T-shirts that said something like "girls getaway weekend" on it. When we told them we had been doing our girls weekend for almost a quarter century, they gasped and chirped like a bevy of delighted birds. They looked at us with wide-eyed curiosity, and dare I say, reverence.
Because they knew they were in the presence of Block Island Royalty, which is a lofty title not casually given, but indeed fully earned.