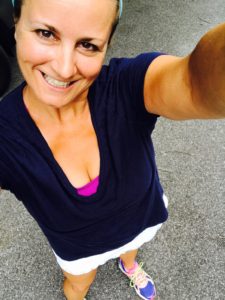 Around six months ago I woke up 20 (25?) pounds heavier. I don't know HOW it happened, or WHY it happened.
Scratch that, I'm lying. For someone who loves the truth so damn much (blah blah blah) I sure know how to lie when I want to live in denial.
I know exactly HOW and WHY it happened. Those pesky pounds landed back on my body fair and square.
Last year, I trained like a bad ass to run a half marathon. I triumphantly ran it, felt exhilarated, validated, and accomplished…and then I promptly fell out of love with "racing." Actually, I fell out of love with PAYING to go somewhere else (other than my own neighborhood) to run my miles.
I continue to run, but not "quite as much." There are other things I do to maintain my fitness, like cycling, good old-fashioned power walking, and hiking. I workout every day. But it's this very regimented activity schedule that helps me justify loading up my plate. Because I exercise all the time, I've been bending and breaking the rules. A lot. Can you say french fries?
This past summer, despite my happier posts on Facebook, I've spent a lot of time being annoyed too. With myself. I've been beating myself up, and berating myself the way I always used to – and it feels terrible.
Now mind you, I STILL haven't weighed in since my initial weight loss a few years ago because I wisely decided that "enough is enough" with the damn scale. These days, I gauge my health on how my clothes fit, and here's the thing: My clothes are WAY TOO mother-fucking tight. I don't feel healthy, I have less energy, and of course, along with that comes less motivation. I'm starting to wear "loose & flattering" blouses again. I feel like crap – and I've been wallowing inside this depressing trap – alone.
So, this post is about my decision to "keep it real" and continue telling the truth. The real truth has worked for me in the past, so I'm going for it.
I keep telling myself that it's time to get "back on track." But then, inevitably, I'll fail somehow. I'll eat a thick chocolate-fucking-chip cookie at work and then perhaps three or four or eight more cookies to go with it. And then I quickly justify my binge. "All my exercise should count for something!" I keep telling myself.
But, If I've learned anything at all, I know that this is not how weight control and sustained healthy habits work. Unfortunately, these past months, I've lost sight of my own conviction, which is that it will NEVER NOT be a struggle, and like so many success stories gone awry before me, I let myself fall into complacency. Not all the way, but certainly far enough.
What I've come to understand though, is that it's ALL good.
ALL OF IT.
And revealing "all of it" (the good, the bad, the ugly) helps me better understand my own mental health around food, my body, and my handy "fall back crutches." It helps me sift and see just how EASY it is to make excuses again.
Because of my storied history with an eating disorder that lasted half my life, I have to stick with what works. What works is honesty. While these extra pounds are very dangerous for me (drastic measures are always an alluring easy fix), the BEAUTY of of my new LIFE, my new AWARENESS, is that I recognize what's happening. I can see it and talk about it, and make the changes that I need to make. I can do the work, because I've done it before. And, as always, I can write about it, and you can listen to me blather on like your Great Aunt Sally. 
Lately I've seen a few posts from friends who are depressed…and part of their depression (like mine!) seems to stem from the fact that they can't get their health and weight in order. We are ALL getting older, and it's becoming "more difficult."
Yup, it sure is.
I want to lovingly tell you that deep down, most of us fighting the weight and health battle feel the same way. We feel hopeless, and we feel like we have no willpower. We feel like we can never get ahead and predetermined failure hides behind every earnest try. Please allow little, old me to be the reminder that it's not easy for ANY OF US. Just when I think I've put most of my bullshit behind me, there it is AGAIN in a heaping, steaming pile right in front of my damn feet.
Do you smell what I'm stepping in? I totally get it. And I can get over it too.
We can ALL collectively get over it. We can face the fact that it's never going to be super EASY to be healthy. It's never going to be super FUN either. We'll never be able to indulge (all the time) in what we desire – the instant gratification in our pleasure receptors via piles of food, and sweets, and alcohol.
We just can't do that anymore, my friends. As my buddy (and former lover) Mick Jagger always told me, "you can't always get what you want," (and still be happy or healthy). It's about to be BORING as hell.
Me, myself, and I have ANOTHER stupid hill to climb. My clothes tell the truth. They tell me that it's a 25 pound hill. It's not quite as daunting as the Mt.  Everest I took on a few years ago, but it's still there, looming large, and it needs climbing.
I'm lacing up my shoes, and I'm ready to go. I've packed my water, my tiny notebook, my head phones, my damn mile counter, and my RESOLVE. And I NEED you guys to climb with me. We can be like a little army of motivated older people who want to radically take care of ourselves.
Who's with me?
Fuck being fat. I'm so over that.
I highly recommend this book: Fit From Within by Victoria Moran. A life changer. xoxoxoxo 
❤️
Love,
Kim