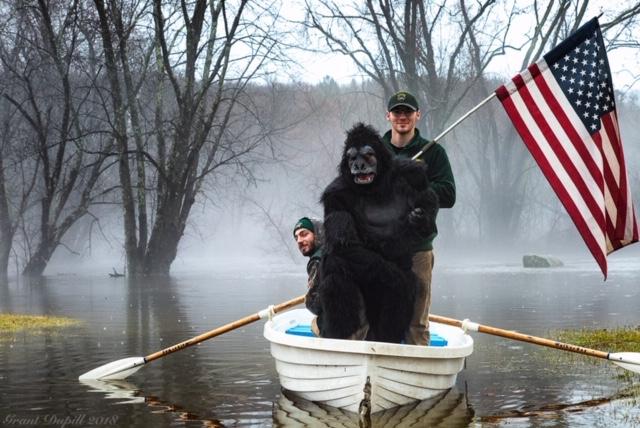 Wow, what a year. What a tumultuous, free-falling, horrible ride of a year. 
Beginning my new job was a bit daunting. I forgot how difficult being the "new person" can be. There were some growing pains, and at the start, I wallowed inside the discomfort of having to get to know people, while learning something completely foreign. Being "The Happiness Director" at a landscaping firm is a tad bit different than working in a school. The good news is I found out that all I really needed to do was listen, learn from my mistakes, and employ a cheerful attitude – the basic social skill set that ensures success in any uncharted endeavor. The other good news is that with the year coming to a close, I've made a few new friends, I like what I'm doing, and I feel like I'm finally "contributing." The guy who built the business and steers the ship has a very kind heart, despite his affection for a certain baseball team that shall remain nameless. He clearly cares about the well-being of other people, which is a home run in any workplace.  

For me, things "shifted" in November. When the mid-terms delivered a reprieve from the chaos (and a small victory for democracy), it felt like weight ascended from my shoulders. I know I'm not alone. I'll continue to speak out and "resist" (and of course dream about impeachment proceedings), but the "Orange Charlatan" will no longer dominate my mental focus in 2019. In other words, he's not allowed in my house anymore. I still care, of course, but I must turn inward now. He has stolen too much of my time (and a few of my friends), and I'm ready to make a pilgrimage back to what feeds my soul, instead of dwelling on what makes me feel despondent.
2018 was the year of tipping scales, and not just politically. I gained some weight, and for a good part of the year, I stopped caring about myself. I kept thinking I could easily "get back on track" but the simple truth was that until I made the commitment and some substantial changes, those extra pounds weren't going anywhere. You heard it here first: if we don't make changes, things stay the same. Brilliant, right?
After my 50th birthday, I made the following small promise: Wipe the slate clean, and "begin" again. Fast forward 8 weeks and my new resolve and morning workout habit has miraculously taken root. I'm feeling pretty great these days, and I'm ending the year without some of those extra pounds. I know through a lifetime of experience that if my body isn't right, my emotions will run foul, and vice versa. It's not rocket science. Health and self-care are essential ingredients for personal happiness. Most of the time, it's mundane "work" to exercise, eat well, and fight "body image" issues, but it's absolutely worth the effort. I'm resigned to the fact that I will have to "re-learn" this not so secret lesson on and off for the rest of my life. 
Some new things! I'm working on an interesting "project" with a fellow creative soul and we can't wait to unveil it.  Also, I'm "studying" the ins and outs of "real" photography from someone who is both an expert and a gifted artist, which leaves me feeling "lucky," and "inspired" to say the least. These feelings were sorely lacking in 2018, and I welcome them back with open arms. Additionally, and because I experienced a tremendous amount of "writer's block" last year, I formed a "writers group" and am looking forward to our first meeting in January. The conclusion here seems to be that if I'm willing to switch lanes and look at "alternative routes" for self-expression, some good stuff will surely come my way. 
Last week, I watched sweet children (and one adorable baby!) take turns sitting on Santa's lap. Their eyes were filled with curiosity and wonder, and their faces danced with unabashed excitement. It was lovely and right and it made me cry a little, because witnessing innocence does that. I also caught a sunrise that changed my perspective, and had a fantastic run that left me high as a kite. I stopped holding my breath for a while. Instead, I inhaled and exhaled and managed to carve out a bit more time to simply write. Traipsing around town, I found all sorts of treasures (for the aforementioned "project") – or maybe I should say they found me? In good humor, I donned the company "Ape costume" and spontaneously helped re-create Washington Crossing the Delaware in the flooded back field at YardApes, Inc.  For a solid half hour, I enjoyed some soul-feeding laughter with a few of the guys I work with, and it was exactly what we all needed on that particular day. Going into 2019, I must remember that stoking my inner child has always lead to magical experiences like these, and taking myself too seriously undermines my well-being. In the last few weeks of 2018, I experienced some raw and real beauty in this dirty, old world through heart-tugging moments, beautiful things, and the revelry of some fellow "fun-seekers," and for that I am grateful.
I'm grateful too, for my tiny mom, who is as adorable and independent as ever. My sister continues to amaze me with her own creativity, attention to detail, patience, and artistic talent. She reminds me so much of my dad, it hurts. I'm grateful for my niece, her fiance and their unborn baby boy, who will make his happy birthday debut in the spring. And grateful too, for all my close family members, who continue to reach out and show me genuine and generous love. I'm grateful for far away, globe-trotting cousins, and all the dear friends in my life who make anything we do way more fun than it ever should be. And I'm beyond grateful that my children continue to forge their own way via their lively, abundant spirit and intellect. I look back at the "hard" years, when character formation is "everything," and I'm grateful we were very "mean" parents sometimes. It appears to have paid off.
A happy life is in the details. 2018 was filled with more stress, sadness, and anger than I care to carry into the new year, so guess what? I am letting it go. As my friend Gail often says, "just blow the negative energy into a virtual balloon and watch it float away." I like her advice (and the visual, too). In the interest of transparency, I have a health "concern" that may or may not affect how things roll out for me in 2019, but I promise to "keep it real" if and when I need to share. For now, please send a few silent prayers my way. I'm not mentioning it to worry anyone, or add drama, but rather to provide a partial explanation for why I've been "pushed" to let go of what doesn't "feed" me. Sometimes it takes this kind of a push to glean clarity.
Love. Connection. Passion. Inspiration. New ideas and captivating, vibrant friendships. Creativity. My morning routine. These healing vibes are helping me move away from disappointment and unfulfilled expectation, toward a more radiant light, which is, in turn, prompting a much more enlightened and peaceful state of "being." Simply put, I'm happy and hopeful after an extended hiatus, and it feels pretty damn good. 
I am finding that all the small things are really the big things. Life is precious, and oh boy is it short. I will continue to seek truth and remain present, but I will also step on the gas a bit and shift gears. My wish for you is that you'll muster some courage (yes, it takes courage) to make the changes you know you need to make in order to move forward in your own life with a cheerful and much less burdened heart.
Here's to 2019! Hug the ones you love, kiss them square on the lips, and go have a pretty drink if that's your thing. A toast is absolutely in order because I believe this is the year we all start to feel better about everything.
Namaste.