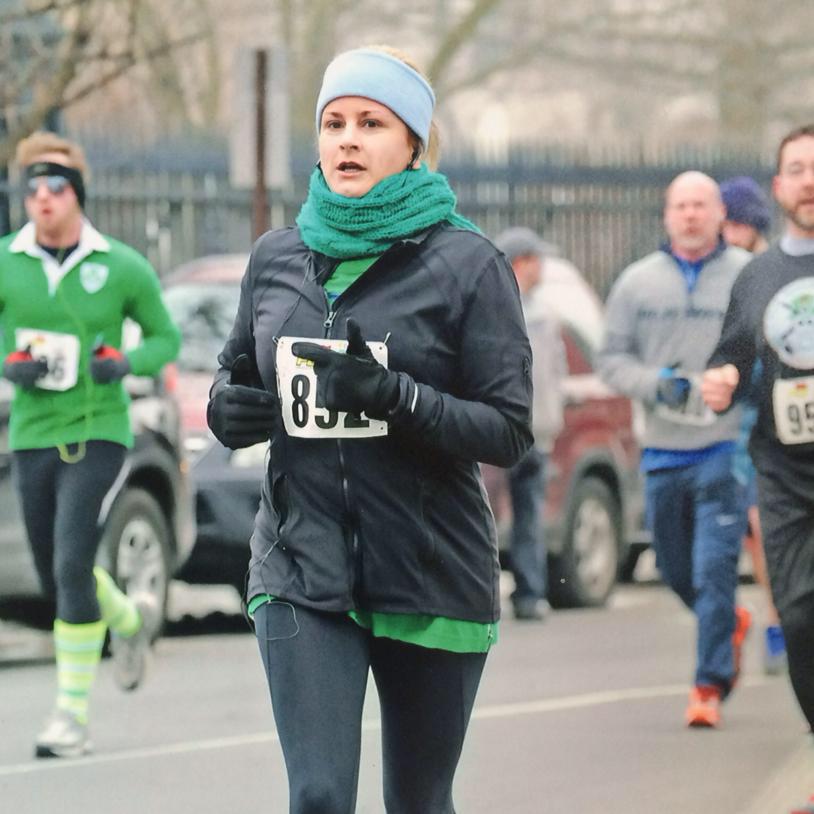 A Runner's Life is About…
Making adjustments…adjusting your schedule, adjusting your sneakers, pulling up the tongue, tying and re-tying your laces, twice, three times, picking your shorts out of your crack, making sure your bra straps aren't twisted, tying your hair back, positioning the headband, "organizing" yourself in general, doing a few completely irrelevant neck loosening movements and windmills with your arms, you know, because it helps your running so much…
Mental psych up sessions…what route should I take, how many hills are enough, will I get completely bored, will I be home in time, and oh, what's the traffic going to be like right now? Okay, you got this, you're an athlete now missy, just do it – it will be over in less than 45 minutes.  Okay, now seriously, just go…just start already…wait, hold on, I have to re-tie my right shoe…
Stretching…prolonged and thoughtful before a run (to avoid running) and way too short after (because who's got time for that?)
Figuring out what's comfortable…do you run in shorts, leggings, or a skirt? Does the armband drive you crazy because it freaking always slides down, or do you wear a waist belt?  And if you run with waist belt, which is essentially a fanny pack, are you ashamed?  If you're ashamed, does it stop you?  No it doesn't my friend, no it doesn't.
Getting someone to listen to you talk about your running…You know, because it's so interesting.  You:  "wow what a great run!"  Him, supportively, smiling, "great, babe!"   You: "yeah, it was a really good one today…didn't even feel it…"  Him "yeah, okay cool"  You: "I really crushed the hills"  Him: "yup"  You: "I actually ran a little faster today, it was great, I'm so amazing"  Him: "what?"
Thoughts, thoughts, thoughts…before, during, after. Just remember your mind will give up before your legs do and that will keep you on the road for as long as you want to be.
Scheduling…run this morning or this afternoon?  Run on Wednesday before my dentist appointment or will it be too tight, too hot, too cold, too windy, too annoying?   If I get it done now I won't have to worry about it anymore…so maybe now is the best time?  Holy crap I'm going to explode.
Gear, gizmos, gadgets and apps… Yes, we must know our pace, lap time, time overall, miles, calories, fastest pace, route, hydration, inclines, altitude, total ascent, weather, mph.   The more information the better.  Why?  Because it's all very, very important. 
Playlists and the creation of playlists… Hypnotize by Biggie Smalls has pushed me through many a mile 4 or 5. I'm grateful to Biggie, and all he has done for me.  In fact, I'd like to dedicate all of my "participation medals" to Biggie.
Supreme weather knowledge… Do you want to know if it's going to rain next Saturday?  Ask a runner.  She'll say, "well, yes in the morning, but it's supposed to clear up by noon with cooler temperatures toward early evening," or something just like that.
Major running shoe lust…do I really want a pair of the Hoka One One's? Do I want the newest Brooks Glycerin?  But I just bought this new pair of Asics Gel Quantum 360's a month ago…oh, but those, those over there, are so nice.  I like that color.  Oooo I like the way they feel…